While the talk of the GRAMMYs was: "What is Lady Gaga wearing" I was looking forward to two things: John Mayer and Eminem.  Before you roll your eyes at me, like Marc Anthony did to JLo last night, let me explain.  I haven't seen Mayer in five months, (NO) pictures on the web do NOT count, so it was nice seeing him again.  Moreover Eminem, wow…his performance last night left me so pumped up that I couldn't even begin to explain how hard it was for me to fall asleep last night.  What an amazing show the GRAMMYs gave, hands down the best I have ever seen.  Here are my highlights of last night's event.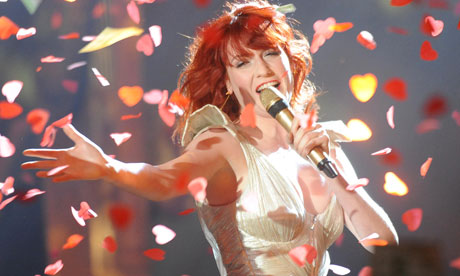 Florence
Rihanna's dress was amazing.
Easter Bunny came early this year and left a little Gaga on the red carpet. LOVE!
Perez's pet was let loose at the GRAMMYs
OMG! Best performance of the night! 
 Mayer looked so sweet last night (despite of the Depp comparisons he had been getting as of late, which I would like to know who the hater was that started that mess, because it's getting OLD!) 
How awesome that Arcade Fire  The Suburbs won Album of the Year?!?
And the best dress goes to Kelly Osbourne who looked stunning  in a Tadashi Shoji's, amazing!
What were yours?